Jay Holman is the Founder and Owner of Elevate Your Life's Design Coaching and Consulting Services. Jay helps managers, leaders and organizations support their teams as they learn effective systems in the areas of finance, wellness, mindset and health. All things I am personally passionate about ☺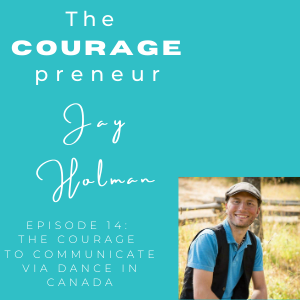 Jay is a collaborative serial entrepreneur, speaker, knowledge broker and connector who helps build communities, organizations and businesses that help impact people on a global level. He aligns himself (and others) with vehicles of massive change and contribution.
I love Jay's unique Zoom-based approach to teaching relationship and communication skills using the art of partner dancing, something I am keen to learn more about.
"I believe in leaving people better than I found them!" ~ Jay Holman ~
To access The COURAGEpreneur podcast, go to: https://pixjonasson.com/podcastseries
Listen in today as Jay shares his COURAGEOUS journey of dance and romance, love and leadership.
CONTACT DETAILS:
Email: jayholman30@gmail.com
LinkedIn: linkedin.com/in/jay-holman30
Website: jayholman.beekonnected.com
Facebook: https://www.facebook.com/jay.holman.12
City: Victoria, British Columbia, Canada
Podcast: Play in new window | Download