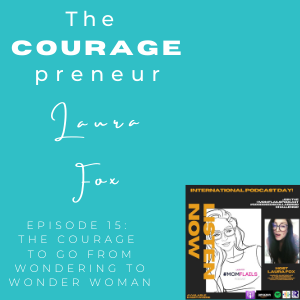 Laura Fox is a serial entrepreneur with a long list of business successes. She is the Founder, Director, CEO at Supportive WOMEN in Business, Mom Flails Podcast, Host, Founder and Managing Director at Early Reader Academy, the Owner and Founder at Clever Fox Books Ltd, Developer at Halo Hangers, Author at Happy Hippos Have Healthy Hips.
Laura knows about business being a former Media Account Consultant at Yellow Pages for Business / Pages Jaunes Affaires – Canada and studying Bachelor of Business Administration Degree at Capilano University.
She also now knows about using her voice to make a difference around the globe by helping women find their voice.
Laura shares how she bravely walked away from friends and even family. Laura opened up a can, sharing her true, authentic voice, feeling free and speaking out about her abuse, then felt like she shouldn't have ever shared, to then finally not feeling guilty.
Listen in today as Laura shares her COURAGEOUS journey of opening up and sharing her abuse followed by her journey of recovery.
"The healed wants to heal"
~ Laura Fox ~
To access The COURAGEpreneur podcast, go to: https://pixjonasson.com/podcastseries
CONTACT DETAILS:
Email: foxsmarket101@gmail.com
LinkedIn: https://www.linkedin.com/in/laura-fox-17162077
Website: www.momflails.com
Facebook: https://www.facebook.com/lala.fox.7
Instagram: https://www.instagram.com/laurafoxflails
City: Langley, British Columbia, Canada
Podcast: Play in new window | Download