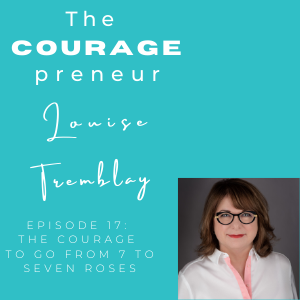 I connected with the inspirational Louise Tremblay courtesy of a previous podcast guest, Paul Rogers. Louise is the International Best-Selling Author of Seven Roses, a fantastic fiction-supernatural and mystery thriller—inspired by real events. Her book, a true page-turner, has been praised by New York Times and International Best-Selling Authors, AND endorsed by Oscar Winner and Hollywood Film, Television and Broadway producer, Phil Goldfine, whose plan is to turn her book into a movie. But why stop there—she's already writing her next novel, which will be epic!
Louise is an intuitive development coach whose passion is to help you not just "achieve" but thrive by unleashing your own creativity and imagination, and hone your writing skills that will make you stand out from the crowd and enchant your readers.
Before she joined Dynamic Destinies, Louise flourished as an accomplished executive working for international communications and high-tech companies. During more than three decades, she mastered the art of coaching and mentoring others to prosper in their career.
Listen in today as Louise shares her COURAGEOUS journey of feeling vulnerable at age 7, being visited by an angel, being a single mother and suicidal after losing everything to not being defined by a title and picking herself up to become an international best-selling author.
And remember, U are COURAGEous.
Much love and big Aussie hugs,
Pix xx
The Couragepreneur
To contact Louise:
LinkedIn: https://www.linkedin.com/in/louisetremblay
Email: Louise@lltremblay.com
Website: www.lltremblay.com
City: Gatineau, Canada
Podcast: Play in new window | Download