I met (virtually online) the ever-generous and well-connected Cristiana Tudor late last year. She has connected me with so many more wonderful people, many of whom have become my podcast guest.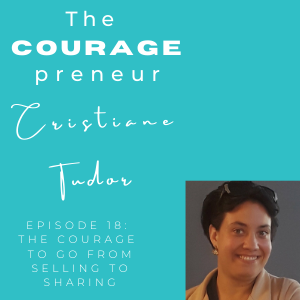 Cristiana Tudor is an international best-selling author, fempreneur, branding and storytelling educator, whose goal is to empower women of any income level to start and scale their business to the next level through effective branding, storytelling and social media coaching.
Cristiana believes "when good people make good money, they can do great things!"
As a successful Entrepreneur, philanthropist and investor in early stage companies, Cristiana is now paying it forward by helping entrepreneurs build wealth through effective branding and investment strategies.
Cristiana incorporates mindset coaching within her programs and helps her clients break out of old patterns, transition into a healthier emotional state, and shift into positive thinking, teaching entrepreneurs globally how to finally hit 7 figures annually.
Your Breakthrough might be closer than you think!
Listen in today as Cristiana shares her COURAGEOUS journey of leaving an abusive relationship and how she has beacon a beacon of hope, positivity and COURAGE for others, especially women. You'll also learn how Cristiana now attracts the people she deserves.
To connect with Cristiana for a complimentary strategy session go to: https://calendly.com/cristianatudor/engage
"Serve don't sell!"
~ Cristiana Tudor ~
To Contact Cristiana:
Email: cristianatudor27@gmail.com
LinkedIn: https://www.linkedin.com/in/cristianatudormamba
Insta: https://www.instagram.com/cristianactudor
Facebook: https://www.facebook.com/cristianactudor
City: New York, USA
And remember, U are COURAGEous.
Much love and big Aussie hugs,
Pix xx
The Couragepreneur
Podcast: Play in new window | Download