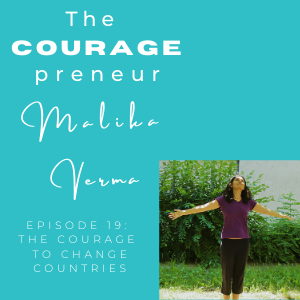 I personally am learning more about spirituality, energy, frequency and vibrations. I recently connected with today's guest and really resonated with her. So voila!
To date, Malika Verma is the most spiritual guest on the podcast I have had. Malika is a Primordial Sound Meditation teacher that helps people cultivate a direct relationship to Source through intimacy and feeling into Source.
Malika also works with the angels and other divine forces for her own spiritual evolution as well as guiding people on theirs. This has led to creation in her own private coaching practice. Her higher vision is to bridge together local Indian women with Western women for deep soul connection, empowerment, humility, and reverence for life.
"Source is connection and oneness."
~ Malika Verma ~
To access The COURAGEpreneur podcast, go to: https://pixjonasson.com/podcastseries
CONTACT DETAILS:
Email: mpverma23@gmail.com
Website: www.divinebreathoflife.com
Facebook: www.facebook.com/divinebreathoflife
City: New Delhi, India
Free gift: www.calendly.com/divinebreathoflife
And remember, U are COURAGEous.
Much love and big Aussie hugs,
Pix xx
The Couragepreneur
Podcast: Play in new window | Download