In this week's podcast, I hold the mic! Many of you know I love acronyms and alliteration, so here's another C in addition to my Trilogy of Success: Courage | Connect | Communicate where I discuss the concept of C.H.A.N.G.E.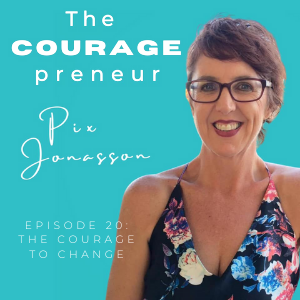 "If nothing changes, nothing changes. Decide to be the change.
~ Pix Jonasson ~
Listen in today as I explain how to cope with change and my COURAGEOUS journey of dealing with change, personally and professionally. Connect and Communicate, Happiness and Honesty, Attitude, Negativity, Gratitude, Energy!
To access The COURAGEpreneur podcast, go to: https://pixjonasson.com/podcastseries
CONTACT DETAILS:
Email: pix@pixjonasson.com
Website: www.pixjonasson.com
LinkedIn: https://www.linkedin.com/in/thepixjonasson
Facebook: https://www.facebook.com/pix.jonasson
City: Dee Why (Sydney), Australia
Free gift: www.calendly.com/pixj
And remember, U are COURAGEous.
Much love and big Aussie hugs,
Pix xx
The Couragepreneur
Podcast: Play in new window | Download