In this week's podcast, I hold the mic again! With feeling guilty for having a couple of weeks off from my podcast and newsletter, (which I will add, are both therapy for me on my healing journey), I needed to let go of my need for having to 'DO', learn to just BE and let go of feeling guilty for NOT DOING! So, like you, I am still a work-in-progress.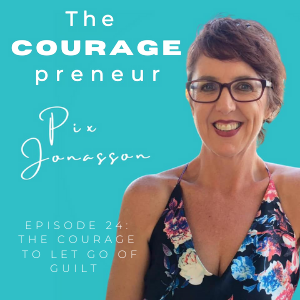 "It's ok to let go of having to 'DO'. Just BE. Let go of guilt."
~ Pix Jonasson ~
Listen in today as I explain how to cope with the need for having to be doing things all the time and the struggle of letting go.
And remember, U are COURAGEous.
To hear my interview, search for The COURAGEpreneur on your fave podcast host: Apple, iHeart Radio, Spotify etc.
To access The COURAGEpreneur podcast, go to: https://pixjonasson.com/podcastseries
CONTACT DETAILS:
Email: pix@pixjonasson.com
Website: www.pixjonasson.com
LinkedIn: https://www.linkedin.com/in/thepixjonasson
Facebook: https://www.facebook.com/pix.jonasson
City: Dee Why (Sydney), Australia
Free Consultation: www.calendly.com/pixj
And remember, U are COURAGEous.
Much love and big Aussie hugs,
Pix xx
The Couragepreneur
Podcast: Play in new window | Download