In this week's podcast, I hold the mic again and tribute this episode to my late nephew, Tobias James Walker, who died by suicide. I have been writing and creating content for many, many years, since childhood actually! Only more recently, I discovered the actual power of writing though.
Words are one of the most powerful means we have for unlocking our life.
Writing things down is a transformative tool available to us all.
In as little as five to twenty minutes a day, scientific research shows this daily practice can help you:
Identify your ruts and create new neurological grooves toward better habits;
Find fresh motivation and take ownership of your life;
Heal from past pain and trauma;
Relieve anxiety and depression;
Contextualize life's setbacks and minor frustrations;
Live a more confident, balanced, and healthy life;
And much more!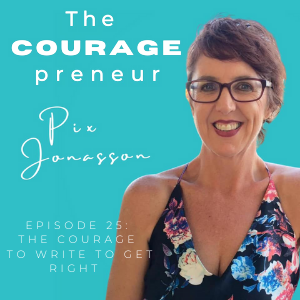 "Write to Get Right."
~ Pix Jonasson ~
Listen in today as I explain my writing journey along my own continuous journey of "getting right."
And remember, U are COURAGEous.
To hear my interview, search for The COURAGEpreneur on your fave podcast host: Apple, iHeart Radio, Spotify etc.
To access The COURAGEpreneur podcast, go to: https://pixjonasson.com/podcastseries
CONTACT DETAILS:
Email: pix@pixjonasson.com
Website: www.pixjonasson.com
LinkedIn: https://www.linkedin.com/in/thepixjonasson
Facebook: https://www.facebook.com/pix.jonasson
City: Dee Why (Sydney), Australia
Free Consultation: www.calendly.com/pixj
And remember, U are COURAGEous.
Much love and big Aussie hugs,
Pix xx
The Couragepreneur
Podcast: Play in new window | Download