In this week's podcast, I hold the mic again and I speak about The Ripple Effect.
A ripple effect occurs when an initial disturbance to a system propagates outward to disturb an increasingly larger portion of the system, like ripples expanding across the water when an object is dropped into it. The ripple effect is often used colloquially to mean a multiplier in macroeconomics. Happiness isn't just a personal experience, it is actually affected by the individuals around you," explains UW Health psychologist Shilagh Mirgain, PhD. Mirgain uses the description of a ripple effect.
Like when a pebble is dropped into the water causing ripples – our words, actions and feelings affect those around us, who in turn affect individuals who come into contact with them, and so on. "How an individual feels can ripple through his or her social groups and actually influence how the group feels in general," she says. "In some ways, our emotional states are like a virus – we can spread the positive and negative experience to those around us, even with strangers."
I also share two personal examples recently:
a beautiful heartfelt message that I received recently
a newly connected colleague was going through an extremely traumatic experience
A while ago, one of my goals initially was to inspire 1 million people globally. Well, I have amended that to positively influence everyone I come into contact with either online or offline. I am not about the vanity metrics. I am about impact and influence, so that they can pay it forward with the Ripple Effect.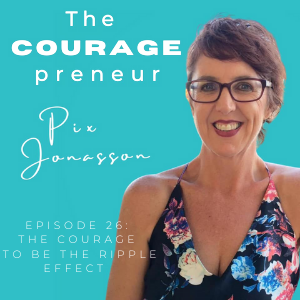 "U are Ur Own Ripple Effect"
~ Pix Jonasson ~
Listen in today as I share two recent examples show how powerful The Ripple Effect is. I never share to impress you, simply to impress upon you, that U are powerful and amazing. I know U are impactful and influential. U have Ur own Ripple Effect. Always remember that.
And remember, U are COURAGEous.
To hear my interview, search for The COURAGEpreneur on your fave podcast host: Apple, iHeart Radio, Spotify etc.
To access The COURAGEpreneur podcast, go to: https://pixjonasson.com/podcastseries
CONTACT DETAILS:
Email: pix@pixjonasson.com
Website: www.pixjonasson.com
LinkedIn: https://www.linkedin.com/in/thepixjonasson
Facebook: https://www.facebook.com/pix.jonasson
City: Dee Why (Sydney), Australia
Free Consultation: www.calendly.com/pixj
And remember, U are COURAGEous.
Much love and big Aussie hugs,
Pix xx
The Couragepreneur
Podcast: Play in new window | Download