In this week's podcast, I interview my Making Meditation Mainstream (MMM) gal pal, the awesome and inspirational Natalie (Nat) Mallia. Nat really found her true courage in 2015, when her doctors told her that she would be blind in 3 months' time from a degenerative cornea disease. She knew that there had to be a way that she could regain control of her mind and heal her body, so she devoted her time to meditation, mindfulness and the metaphysics of eyesight and self-healing.
Nat attributes her miraculous self-healing to the power of mindfulness and now loves sharing the healing benefits of meditation, mindfulness and our chakras with people and watching their lives transform. She combines both the spiritual practices of Buddhist meditation with the Western science wisdom to give a holistic and relatable view.
Nat runs Wellness with Nat located in Umina Beach on the Central Coast offering both online and in-person classes, courses and energy sessions to help others on their self-healing journey. She is an accredited meditation teacher with Meditation Australia, Medical Intuitive, Wellness Coach and ACT Mindfully Practitioner. She loves spending time in nature, soaking up the sun, and cooking up a storm in the kitchen.
You can find out more about Nat at www.wellnesswithnat.com or join in the zen and healing in the Facebook Group SelfHealing4theSoul.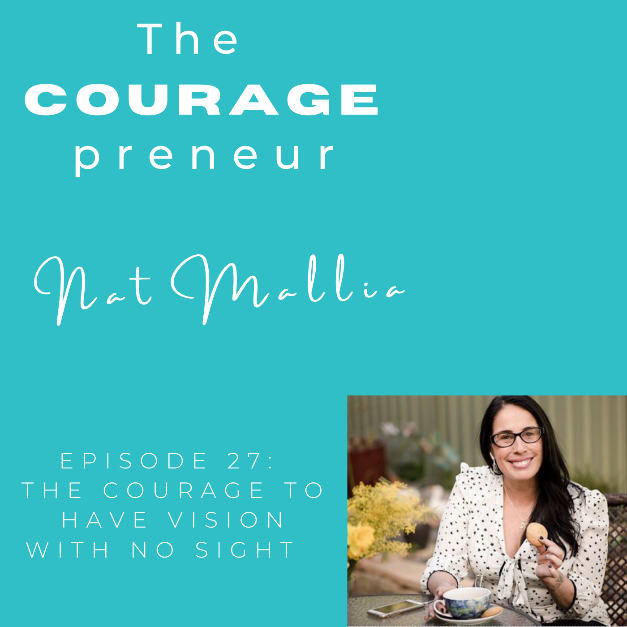 "Don't wait until you're facing adversity to find your courage."
~ ~ Nat Mallia ~ ~
Listen in today to hear how Nat's dedication to meditation and her determination to calm her mind and heal her body paid off. Her vision didn't deteriorate to blindness like the doctors predicted and four years later, after spending three months in a Buddhist meditation retreat, something shifted in Nat's body and her eyesight was able to be restored with a miracle surgery.
And remember, U are COURAGEous.
o hear my interviews, search for The COURAGEpreneur on your fave podcast host: Apple, iHeart Radio, Spotify etc.
To access The COURAGEpreneur podcast, go to: https://pixjonasson.com/podcastseries
CONTACT DETAILS:
Email: nat@wellnesswithnat.com
Website: www.wellnesswithnat.com
Facebook: https://www.facebook.com/sparkly.nat.44
City: Umina (Central Coast)), Australia
Podcast: Play in new window | Download