I connected with this week's guest through social media. Being me I suggested we jump on a video chat, which we did soon after. Trine Lehmann Hansen has a lifelong passion for personal development and spiritual growth, which is why we connected so well!
Trine's key question has always been: Why does life seem easy for some people, while others are constantly struggling?
This burning question made her study human actions, reactions and interactions – and how we can improve all three areas. It led Trine to social and cultural anthropology, teaching and coaching, but she didn't find her ultimate answer until after she had spent more than a decade with severe stress and depression.
Trine realized that the answers had been inside her all along – she realized that we ALL have the answers. The problem is that most of us never learned to listen. Never DARED to listen. Our souls know what it takes to live a life of meaning, joy and purpose.
Becoming clear on this by discovering her deepest dream, changed everything for Trine. She went from feeling sorry for herself to falling in love with life in just a few months.
That is when she knew she had to write a book and share her methods with others who have this feeling that there has to got to be more to life.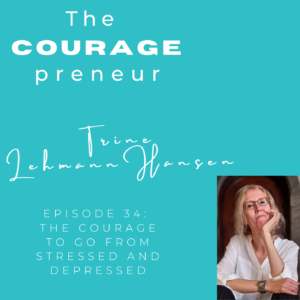 "Be your own Spiritual Rebel." ~ Trine Lehmann Hansen~

Listen in to hear how Trine, who went from an introvert to 'textrovert', was stressed and depressed for 10 years, faced the challenges of being a single Mum (Mom) to being a spiritual rebel and writing a book about her journey of recovery.
To listen to our interview, go to: https://pixjonasson.com/33-the-courage-to-go-from-stressed-and-depressed-trine-lehmann-hansen/
To check out our Trine's book, go to: https://www.amazon.com/dp/B09G176LN2?ref_=pe_3052080_276849420

And remember, U are COURAGEous.
To hear my interviews, search for The COURAGEpreneur on your fave podcast host: Apple, iHeart Radio, Spotify etc.
To access The COURAGEpreneur podcast, go to: https://pixjonasson.com/podcastseries
Podcast: Play in new window | Download