This week's podcast is an EXTREMELY PERSONAL ONE. It's part of MY story about my childhood 'journey'.
Recently, I was asked by Chrissy Sykes, Creator of My Body Is My Body Program, to contribute an article (300 – 500 words) to The Ambassador, a global online magazine. I drafted my submission, then felt compelled to share it with a storytelling coach, Jennifer Leone. Jennifer and I had a wonderful phone call, with her providing her own take on my article. After our powerful chat, I then COMPLETELY changed my thoughts on my childhood 'abuse' and its impact on me. This has so helped me on my journey of recovery and healing.
Hence, I also felt compelled to record it as a podcast episode. So voila! This one is uncut and unrehearsed, raw and real, actual and authentic. It's UNIQUELY me.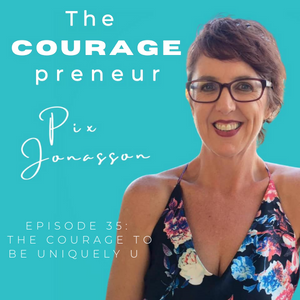 "Be Uniquely U. Ur Story Matters. U Matter." ~ Pix Jonasson~

Listen in to hear my own journey and how I have learnt that holding onto abuse, adversity, tragedy and trauma is not healthy, nor are the events bad (or good), they just are. It's thinking that makes it so.
To listen to our interview, go to: https://pixjonasson.com/35-the-courage-to-be-uniquely-u-pix-jonasson/
And remember, U are COURAGEous.
To hear all my interviews, search for The COURAGEpreneur on your fave podcast host: Apple, iHeart Radio, Spotify etc.
To access The COURAGEpreneur podcast, go to: https://pixjonasson.com/podcastseries
Podcast: Play in new window | Download