This week I chat with the wonderful Preston Weekes, a professional business builder, strategist, closer and coach for impactful high-net-worth individuals.. I met this week's guest courtesy of a fab LinkedIn friend, Eldin Hasa. I really connect with Preston as his mission is to make the world work for 100% of humanity.
Preston's primary love is to work with people to create lasting permanent change and empower others to create more in the world. His newest project is FormulaEQ.com where he has partnered with London's top performance coach to bring the most powerful mindset training ever created. We are teaching people how to gain 100% of their personal power back in their lives and create a space to build anything they want in their future.

As a major car enthusiast, Preston began his career in the automotive sector turning one $1600 car into a $50M/yr automotive empire owning or co-owning 15 car dealerships and creating vertical businesses to support them including paint shops, mechanic shops, and a finance company.

Watching the trend of electrification in the automotive sector, he took an offer to leave cars when he was recruited by a previous high-end car client, Mark Victor Hansen, Co-Creator of Chicken Soup for the Soul. Preston was brought into a renewable energy company startup as the Chief Operating Officer for Metamorphosis Energy. In his time at Metamorphosis Energy, he helped commercial and industrial companies, as well as government entities to navigate the adoption of renewable energy into their plans and business profile.

Preston founded Operations X in 2015 offering useful solutions to business owners to provide actionable solutions to help the success rate of the Private Business. With Operations X, they consult and train organizations and leadership in sales, messaging, branding, marketing, and operational cost reduction.

Preston's mission has always been to help the success of the people and uplift the lives of everyone he interacts with. With every person or company he helps to grow, he is empowering people's dreams to come true. This has become his motivating force. It is his goal to provide growth in our world and create prosperity.
Together with Eldin, Preston is a co-founder of Formula EQ Academy.

His personal goal is to leave the people he interacts with happy, fulfilled, and complete as we continue to make massive positive changes across the world. He asks you to join his journey in building humanity by starting at the foundation of YOU!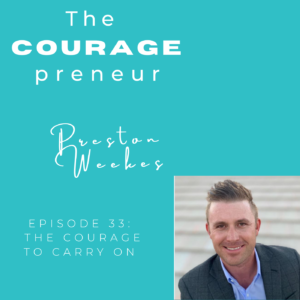 "I wasn't a failure…it was the business that actually failed." ~ Preston Weekes~

Listen in to hear how Preston was facing losing everything but chose to CARry on with his car business and his own life. Hear how Preston says you are more powerful than you thought and how he wants to uplift 100% of humanity.
To hear our interview, go to: https://pixjonasson.com/33-the-courage-to-carry-on-preston-weekes/

And remember, U are COURAGEous.

To hear my interviews, search for The COURAGEpreneur on your fave podcast host: Apple, iHeart Radio, Spotify etc.
To access The COURAGEpreneur podcast, go to: https://pixjonasson.com/podcastseries

Podcast: Play in new window | Download