This is a MILESTONE week. In 2020, I had a Covid baby, twins really!! And this week we celebrate a couple of their "birthdays"… the RUBY 40th episode of The COURAGEpreneur Podcast and also the GOLDEN 50th edition of The COURAGE Weekly. Last year I started both The COURAGEpreneur Podcast and The COURAGE Weekly, having the COURAGE to Commence and learn along the way, not having all the metaphorical "green lights" to commence!
Like anything though, we are never a success on our own.
I owe a debt of gratitude to my ab-fab podcast mentor, Annemarie Cross. Thanks for your faith, belief and trust in me as well as your amazing guidance and support. Without you, The COURAGEpreneur brand would still be only an idea.
Steve Allen, you are the man with the golden voice. I am so grateful for standing in THAT lunch line at the Gary V and Grant Cardone event years ago, meeting you and complimenting you on your voice and subsequently last year, asking you if you would record the voiceover. Your professional intro and outro for each episode and the zippy music for The COURAGEpreneur Podcast is always appreciated.
Thanks also to my kids, Sam (Sambo) and Katie Kate for inspiring me to me your crazy Mumma in all I do. And thanks to your respective partners, Mum-to-be Milla, and Andrew.
Thanks to all my family for supporting me in all my ventures.
And thanks to my partner, Craig, for loving me the way you do. Big hugs.
This week's podcast is about The COURAGE to Commence, personally and professionally. As Zig Ziglar (not Jim Rohn!) said, "You don't have to be great to start, but you have to start to be great."
Feel free to also check out the speech I mention about making your bed by Navy Seal, Admiral William McRaven.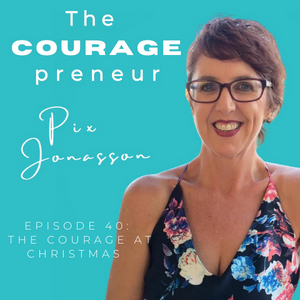 "Happy and safe Christmas one and all." ~ Pix Jonasson ~
Listen in to hear my Milestone podcast about having the COURAGE to Commence. I also share about my Covid pivot….my revamped book, A Crash Course in COURAGE.
Please reach out if you would like to register your place on the Pre-Order List to secure your copy.
To listen to Episode #40 (actually it's #40), go to: https://pixjonasson.com/40-the-courage-at-christmas-pix-jonasson/
And remember, U are COURAGEous.
To hear all my interviews, search for The COURAGEpreneur on your fave podcast host: Apple, iHeart Radio, Spotify etc.
To access The COURAGEpreneur podcast, go to: https://pixjonasson.com/podcastseries
Podcast: Play in new window | Download