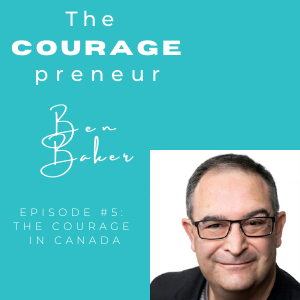 Ben is a husband, a father and a member of his community, the fishing village of Steveston, BC, just 30 minutes out of the downtown core of Vancouver, Canada.
He is a big believer that friends and family are paramount and we all have a responsibility to roll up our sleeves and help change our little part of the world.
Ben is an international speaker and an author, contributing both to magazines and other people's books over the last number of years.
His book "Powerful Personal Brands: a hands-on guide to understanding yours" was released August 1, 2018.
Listen in today as Ben shares his COURAGEOUS journey of being a person of integrity and authenticity.
Ben shares:
his ability to get back up, adapt and move on;
the human spirit to move forward or be stuck in the travesty;
the difference between needs and wants;
a romantic moment of being COURAGEOUS;
and many more COURAGE tips.
CONTACT DETAILS:
Email: ben@yourbrandmarketing.com
LI: https://www.linkedin.com/in/yourbrandmarketing
Web: www.yourbrandmarketing.com
Cell: (Canada) 604 512 7174
Podcast: Play in new window | Download