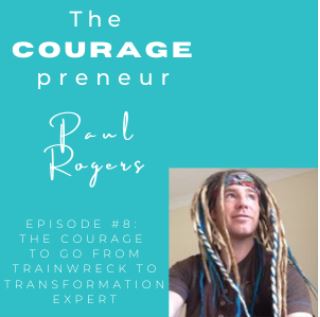 Paul Rogers is a Transformation Expert with a particular interest in helping anyone who has or is currently facing trauma. Trauma is anything that overwhelms us: financial, physical, emotional, or mental. Paul is also a Life Coach with first-hand knowledge of TBI (Traumatic Brain Injury) and PTSD. He is a keynote speaker, creator of the "find your voice" public speaking course, and a best-selling author.
Paul's mission is to help others experience the power and journey of transformation to find their inner passion and true purpose.
Transform is actually two words in one: trans-form. Form is your current life, abilities, and limiting beliefs. Trans means to go beyond, to soar above the form. Transformation occurs when you go beyond your current situation.
Paul is a master storyteller and he uses his classic British humour to inspire magic in others. He tells his own 21-year overnight success story to chart the highs and lows of life, which, each time, required a new version of himself.
Well before the dreadlocks, his original vocation was as a successful Commercial Law Partner, transitioning to a kitesurf instructor and international kite school owner. Then morphing into a teacher on a Native Cree reserve and he is now a life coach and transformational expert.
Listen in today as Paul shares his COURAGEOUS journey of beating cancer, walking away from a devastating traffic accident with a train, living with the shadow of a severe TBI and PTSD.
He knows that he has had another shot at life and has taken these destructive events to inspire, motivate and energize others. He believes that it is the light that defines him.
To contact Paul:
Email: paul@takeactionacademy.ca
LinkedIn: https://www.linkedin.com/in/paul-s-rogers-63b828146
Website: http://www.takeactionacademy.ca
Facebook: https://www.facebook.com/paul.rogers.3158
City: Stanstead, Quebec, Canada
And remember, U are COURAGEous.
Much love and big Aussie hugs,
Pix xx
The Couragepreneur
Podcast: Play in new window | Download