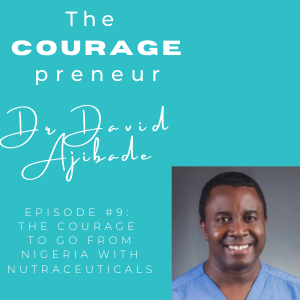 Dr Dayo David Ajibade is the medical director and founder of Brain and Body Solutions, Ltd., an integrated health center in Abuja.
He is also the Executive Director of Brain and Body Foundation (BBF), an organization – established in both Nigeria and the USA – focused on educating the Nigerian public on important health issues, providing safe, innovative solutions to health conditions affecting the brain, endocrine (hormones), immune and cardiovascular systems, and on alleviating the suffering of medically fragile children, including those diagnosed with severe brain disorders, genetic disorders, and sickle cell disease. BBF holds a free clinic every Friday during which free consultations and nutraceuticals are provided to children from low income families.
The Brain and Body Foundation has signed MOUs with the Federal Ministry of Health and The Nigerian Military to address Mental Health, Brain disorders and non-communicable diseases in Nigeria. The Foundation was recently granted approval to carry out a multi-site research into the use of nutraceuticals in the treatment and management of sickle cell disease in children.
Listen in today as David shares his COURAGEOUS journey of relocating from Nigeria to USA with a suitcase and a dream to focus on important health conditions and issues affecting the brain, endocrine (hormones), immune and cardiovascular systems.
To contact David:
Email: david.wordquest@gmail.com
LinkedIn: https://www.linkedin.com/in/dr-ajibade-david-146b14116/
Website: www.brainandbodyfoundation.org
City: Dallas, Texas, USA
And remember, U are COURAGEous.
Much love and big Aussie hugs,
Pix xx
The Couragepreneur
MORE ABOUT DR AJIBADE
Education and Training:
Dr Ajibade received his medical degree from the University of Ibadan, and worked in the Radiotherapy and Oncology (cancer) Department at the National Hospital, Abuja before leaving for the United States to pursue a more complete understanding of health, medicine and human life. In the process he has amassed a long list of certifications in several fields, including the treatment of brain disorders, the addressing of inflammation and naturopathic medicine.
He has devoted the last 20 years of his life to studying how the human mind and body work, with a focus on understanding how to optimize their performance. He has also had a keen interest in identifying and studying some of the best researched and most critically acclaimed discoveries in medical science, especially in the fields of brain function, immune and endocrine health, and cancer.
In the process, he has collaborated (and is still collaborating) with a wide array of experts (especially in the fields of immune function, brain disorders, and cardiovascular disease), and several organizations in educating healthcare professionals and the general public. Leveraging technology and the Internet, Dr. Ajibade has educated people of different races, ages, backgrounds and educational levels all over the world on what can be referred to as "The Laws of Health and Life": the key principles that people must know and understand to live long healthy lives. In the process, he built a network of medical professionals in the US and Canada and a vast library of videos, audios, handouts and text materials on topics ranging from the latest and most effective treatments for cancer, to how to raise intelligent, healthy, emotionally adjusted children, to effective approaches for optimizing hormonal levels.
United Nations Foundation Work:
As a consultant to the United Nations Foundation, Dr. Ajibade played a key role in the drafting of Nigeria's first comprehensive eHealth strategy. This was a collaborative effort between the Federal Ministries of Health and Communication Technology, and major telecommunications companies.
Publications
• Preliminary Observations of the Beneficial Effects of Nutraceuticals in the Management of Autism and non-Autism Related Neurodevelopmental Disorders in Nigerian Children (Annals of Ibadan Postgraduate Medicine and National Institutes of Health website: https://www.ncbi.nlm.nih.gov/pmc/articles/PMC6580412/)
• Powerful People Lead Healthy Lifestyles (published June 2007) – a book which attempts to cover all the various facets (spiritual, emotional, psychological and physical) that determine the health of the human body. Book sales ranking rose to #19 on Amazon.com.
• Pending: The use of nutrients in the long-term management of sickle cell disease
In the Media:
Dr Ajibade currently hosts and presents a weekly TV show on Africa's largest television network entitled: Your Health in Your Hands. This 30-minute segment highlights issues affecting Nigerians in particular, including mental health/brain disorders, cardiovascular concerns (e.g. hypertension) and cancer, and is viewed at least five times a week by millions both within and outside the country. Dr Ajibade is a frequent guest on several radio and television stations, including Channels TV, TVC, NTA and AIT where he offers his expert advice. Through the media, life seminars, trainings and partnerships with government and non-governmental organizations, he is focused on bringing his experience, expertise and connections to improving the delivery of health care in Nigeria and of the health of Nigerians as a whole.
Work with the Nigerian Military:
• Dr Ajibade is an "ex-boy" of the prestigious Nigerian Military School and was a cadet at the Nigerian Defence Academy (41RC). Many of his colleagues and friends have had to deal with the deleterious (sometimes lifelong) mental and emotional consequences of warfare. For him, it is a personal (as much as it is professional) mission to help reduce the burden.
• The Brain and Body Foundation has an MOU with the Nigerian Army to address both mental health and neurological challenges.
• Dr Ajibade has given numerous presentations to different branches of the Nigerian Military, including the Nigerian Army Medical Corps, Finance Corps, the Nigerian Army Resource Centre (NARC), National Defence College, and the Defense Intelligence Agency (DIA)
• Through the Foundation, Dr Ajibade has donated a large number of nutraceuticals for the treatment of soldiers at 44 Military hospital in Kaduna suffering from PTSD, traumatic brain disorder (TBI) and the mood disturbances arising from such conditions (including aggression, sleep disturbances and hyper-arousal). Positive results were reported by the chief psychiatrist.
Brain and Body Foundation:
The Brain and Body Foundation has a four-fold Mandate, captured in the acronym C.A.R.E. which stands for: Charity. Advocacy. Research. Education. Under the supervision of the Federal Ministry of Health, the Brain and Body Foundation has been using nutrients and nutraceuticals to address non communicable diseases in general, especially sickle cell disease, brain disorders and mental health challenges including strokes, cerebral palsy, autism, and stress related disorders for over five years…all with remarkable results. *
Each Friday, a free clinic is held for economically disadvantaged parents of children with brain disorders and sickle cell disease. Consultations and medications are given free of charge.
As part of their, the BBF is constantly seeking safer, more cost-effective approaches to many of the health challenges affecting Nigerians. The foundation was recently given approval to carry out a one-year research project to determine the effect of vitamin D3 and other nutraceuticals on the quality of life of children with sickle cell disease. The project is yet to commence.
*Actual video footage of recoveries are available on the following website: www.brainandbodyfoundation.org
Podcast: Play in new window | Download