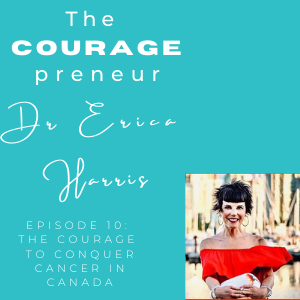 I connected with today's guest through the awesome Paul Rogers who was featured in Episode #7. Thanks so much Paul for the intro! ☺
Dr. Erica Harris has long since lived a life passionate about health and wellness. She had established a very successful career in this very arena as a thriving sports chiropractor. She had owned her own well- renown, multidisciplinary health centre, Peak Performance Chiropractic Health Centre, on the west side of Vancouver, just outside the gates of the University of British Columbia.
Erica hiked every mountain and soared down them all on her skis. She was very happily married and she served as the doting young mom to her two, wee boys.
A cancer diagnosis in 2012 ripped away the life that Erica once knew.
Seemingly, in the blink of an eye, Erica was diagnosed with what proved to be a very aggressive version of acute myeloid leukaemia, in the spring of 2012, while she was still nursing her youngest.
Despite her most valiant of fights as a fully admitted in patient, Dr. Erica did not respond to even the harshest of 24/7 chemotherapy regimens known as "salvage chemotherapy". Devastatingly, she was awarded a two month terminal prognosis and was denied all further medical treatment aside from palliative care moving forward. This dire prognosis was even confirmed by a leading leukaemia institute in the US.
Despite this, Erica embarked on her fight of fights in her fierce yearning to still "get" to be mom to her two babies.
This has been a very poignant interview for me as Erica has survived Leukaemia and tragically, I lost my own Mum to Leukaemia in 2017.
Listen in today as Erica shares her COURAGEOUS journey of recovering from cancer, single parenting and explaining cancer to her young children, with one son giving her COURAGE with "Go Fighters!" Learn about Erica's Personal Power Statement, how she connected with her organ donor and how she lives life and loves life.
To contact Erica:
Email: erica.projecthope@gmail.com
LinkedIn: linkedin.com/in/dr-erica-harris
Website: www.risetoday.com
City: Vancouver, BC, Canada
And remember, U are COURAGEous.
Much love and big Aussie hugs,
Pix xx
The Couragepreneur
Podcast: Play in new window | Download