In this week's episode, I am absolutely stoked to interview someone who is all about, you guessed it, COURAGE. I connected with today's guest Patrick Meniboon, courtesy of a mutual LinkedIn friend, Steve Donofrio, and more recently we both shared the online stage, with 49 others for The Soulful Exploration's 24 Hour Confluence, Tribe Ripples: Many Heartbeats, One Rhythm. (Thanks Anu and DC!)
Patrick is "The Courage Hacker". He is a Self-Mastery strategist, author of the upcoming book "Becoming Unmesswithable", working with organizations and legacy-driven individuals who want to master the #1 skill of courage to disarm their insecurities on demand and catapult their confidence, influence, and impact.
From a stuttering child to a high school class valedictorian to being named a district finalist in the 2015 Toastmaster World Championship of Public Speaking, Patrick challenged himself with what seemed like an impossible goal: overcome his insecurities around stuttering, enter the toughest industry in the world, and become a professional speaker. And proudly, that's what he does now.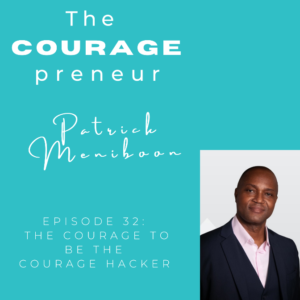 "Fractional distillation of Courage" ~ Patrick Meniboon~

Podcast: Play in new window | Download