I connected with today's guest through Lisa Jameson, a previous guest of The COURAGEpreneur. Thanks so much Lisa for the intro!
Today's guest, Jeff Davis, has done keynote speeches internationally and is a sought-after expert on self-leadership and overcoming adversity. Jeff did a TEDx talk in New York City called "How to Fulfill Your Inner Life" and he frequently speaks to, consults with, and coaches high schools, colleges, non-profits, organizations, associations, conferences and businesses.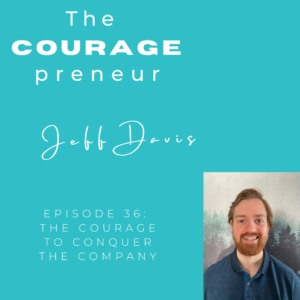 He is the author of the award-winning book "Reach Your Mountaintop" as well as the Amazon bestseller "The Power of Authentic Leadership".
He's been to five different continents and now lives abroad in The Netherlands. is always leaving his audiences with useful tips and strategies.
Jeff is no stranger to setbacks, difficulties and adversities. In 2007, at age 17, after a series of unexpected circumstances he hit rock bottom and nearly committed suicide. In college, he was severely bullied by someone on his baseball team to the point of physical abuse. Jeff has been featured on Tiny Buddha twice, one of the most popular websites in the world and his story has helped millions of people worldwide.

Jeff graduated from McDaniel College with a B.A. in Economics and Mathematics, receiving all-college Honors and Honors in Economics while playing Division III baseball. He went on to receive his Master's degree from Johns Hopkins Carey Business School, completing a two-year program in one year while growing his business and publishing a book through a publishing house.
He has worked with fascinating and top-notch companies in Connecticut, Maryland, The Netherlands, Budapest and Hungary, from start-ups and County Government to a Fortune 500. He has a gift for connecting with audiences and he has demonstrated ability to positively affect others.
Listen in to hear Jeff COURAGEOUSLY exposes the sexual abuse and bullying in a school, how Jeff actually was prepared to take his own life to then taking on a huge multi-billion dollar Dutch company and won.

To hear our interview, go to: https://pixjonasson.com/36-the-courage-to-conquer-the-company-jeff-davis/

And remember, U are COURAGEous.

To hear my interviews, search for The COURAGEpreneur on your fave podcast host: Apple, iHeart Radio, Spotify etc.
To access the BONUS 3 Part Podcast Series for The COURAGEpreneur podcast, go to: https://pixjonasson.com/podcastseries

Podcast: Play in new window | Download