About Terence Pope
I connected with this week's guest via LinkedIn. Terence Pope has the mission of raising the vibrational expression of humanity through the power of love. So I knew I had to have a chat with him. Terence is a father, grandfather, traveller, entrepreneurial business owner, author, life coach and podcast host, The Mind Coach Man.
If you had met him sixty years ago, you would have discovered a young boy so afraid of what others thought of him that he suffered from a severe speech impediment and was not even slightly effective at communicating with people.
At nine years of age, Terence had a vision that was the start of what was to become a lifelong long journey of self-development as he desperately sought the truth about his life … who he is, why he is here and where he is going. Terence believes the journey will continue until his mission is successful.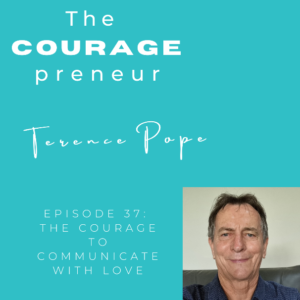 "Don't let your mind scare the life out of you.
Let your heart put the life in you
~ Terence Pope~
Listen in to hear how Terence he changed his mindset of being trapped in being a prisoner of his own thinking after reading Psycho-Cybernetics by Maxwell Maltz. Terence shares about unconditional love and the power of being in the present moment. He also speaks about relationships as being relating ships and that the best is yet to come.
To hear our interview, go to: https://pixjonasson.com/37-the-courage-to-communicate-with-love-terence-pope/
And remember, U are COURAGEous.
To hear my interviews, search for The COURAGEpreneur on your fave podcast host: Apple, iHeart Radio, Spotify etc.
To access the BONUS 3 Part Podcast Series for The COURAGEpreneur podcast, go to: https://pixjonasson.com/podcastseries
Podcast: Play in new window | Download